Veterinarian and Staff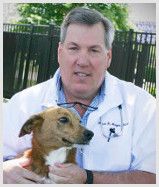 Dr. Brian Magee
Dr. Brian Magee is a native of Madison County. Dr. Magee graduated from Auburn University College of Veterinary Medicine in 1988. Dr. Magee opened Madison Animal Care Hospital in 1991. He enjoys fishing, spending time at the family farm, watching Auburn sports, and spending time with his wife, Jennifer, and their children, Hampton and Page. Dr. Magee's pets include a shih–tzu named Owen, a Chihuahua named Tucker, a black and white tuxedo cat named Tux, an orange tabby named Aubie, a dilute torti cat named Sweetie, and a rabbit named Matilda.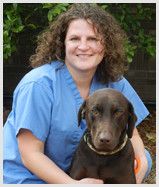 Dr. Lollie Hayles
Dr. Lollie Hayles joined the Madison Animal Care Hospital team in 2010 as a relief veterinarian. Originally from Arkansas, Dr. Hayles completed her undergraduate studies at the University of Arkansas and then earned her DVM degree from Louisiana State University in 2006. She moved to Huntsville from Tuscaloosa in the spring of 2010 and is owned by 2 dogs and 2 cats: Trigger, Skully, Stubbs and Timon. In her spare time, she enjoys cooking, traveling, movies, and outdoor activities.
Dr. Hanback
Dr. Hanback joined Madison Animal Care Hospital as an associate in November 2014. She earned her bachelor's degree in Animal Services from Auburn University in 2003 while completing her Doctor of Veterinary Medicine degree. She graduated from Auburn University's College of Veterinary medicine in 2006. Dr. Hanback enjoys spending her free time with her husband and their little girl. They have 7 pets (3 dogs and 4 cats). She also enjoys Auburn football, being outdoors, and early morning coffee.
Dr. Nicki Plunkett
Dr. Nicki Plunkett attended Oklahoma State University for her undergraduate work followed by Kansas State University for her veterinary education. After graduating from KSU in 2004, she moved to Akron, Ohio for a rotating internship followed by a surgical internship at Metropolitan Veterinary Hospital. She was fortunate to do her surgical residency at Auburn University from 2006–2009 after which she returned to her hometown of Oklahoma City to work at a private surgical referral hospital. After her and her husband decided to return to his hometown of Arab, Alabama, she began doing surgery relief work at Kansas State University, the Virginian-Maryland Regional College of Veterinary Medicine and for Texas Specialty Veterinary Services, a mobile surgery practice in San Antonio, Texas, which inspired the idea for AVSS. She was certified by the American College of Veterinary Surgeons in March 2012 and opened AVSS in January 2013. Dr. Plunkett enjoys all forms of surgery but is specifically interested in reconstructive and surgical oncology.
Rusty Magee, Practice Manager
Rusty Magee is the practice manager at Madison Animal Care Hospital. Rusty has worked in veterinary medicine since 1979 and has been with Madison Animal Care Hospital since it opened in 1991. Rusty is a native of Madison County and an Auburn fan. He graduated from Auburn University with a degree in animal dairy science in 1984 and also earned a degree in food science in 1985. Rusty has three orange tabbies: Chaucer, Tom, and Fireball.
Mary Ouzts, Licensed Veterinary Technician
Mary Ouzts was born in Jackson Florida. She was raised in Athens and Huntsville Alabama areas. She graduated from Buckhorn High School. Went to San Juan College and graduated with a degree in Animal Services. She is a licensed technician since 2012. She has been in the veterinary field for more than 10 years. She enjoys spending time with her husband Jamison and daughter Mackenzie. They have 4 dogs, Cooper he is a Ridgeback, and 3 small dogs named Kaleigh, Mya and Flip.
Annalisa Osborne, Licensed Veterinary Technician
Annalisa Osborne was born and raised in Huntsville, Alabama. She has been working with Madison Animal Care Hospital since 2001 as a caretaker, receptionist, assistant, and for the past several years as a licensed veterinary technician. Annalisa became a licensed veterinary technician in 2009. She also works part–time at the local animal emergency clinic and has worked there, on and off, since 2003. She enjoys spending her free time with her husband, Dustin, and their son, Eli. They have five dogs (Nuse, Petunia, Pebbles, Petri, and Chico) and four cats (Sydney, Isabelle, Spotz, and Eva). Petri and Chico spend most of their days hanging out with the front desk staff and greeting clients.
Receptionists
From Left: Patti, Aubrie, Christy, Gigi, Jennifer.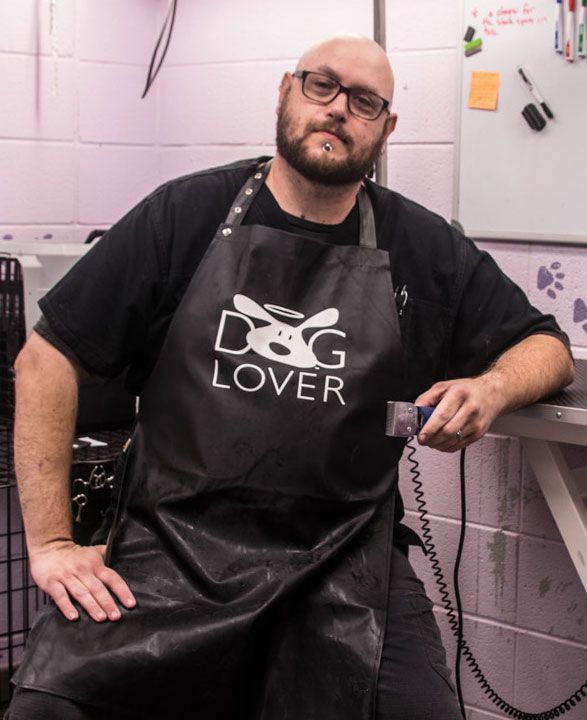 Chris, Resident Groomer
Chris began his career as a Companion Animal Hygenist while in Central California around 2001. He was certified through a professional grooming academy before moving to Alabama and furthering his education as an apprentice under several Master Stylists. He has worked in salons in Pittsburg, PA as well as Baton Rouge, LA and has now settled down here as the primary pet stylist and dog groomer here at Madison Animal Care Hospital.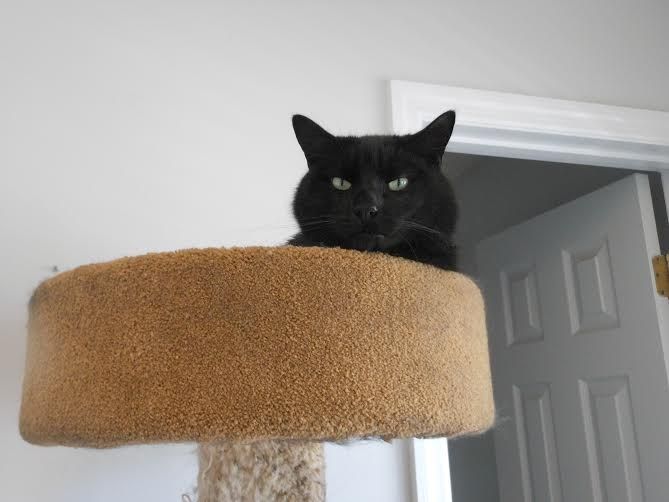 Clinic Pet, Spookie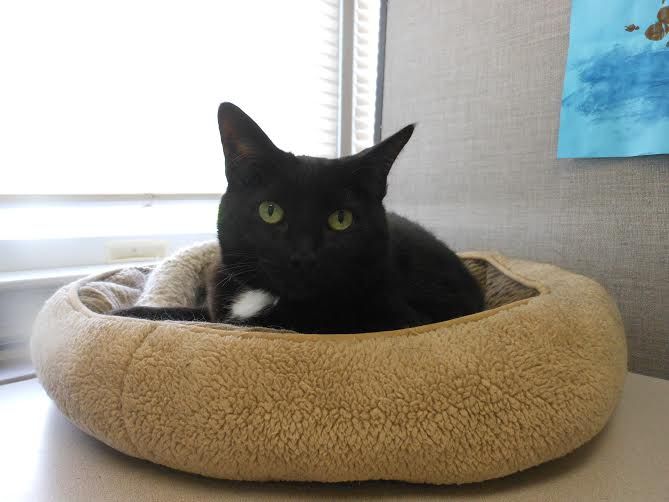 Clinic Pet, Wednesday